Looking for a quick checkout? Click here to go straight to checkout with a 6-pack of WEE Glencairns.
PLEASE NOTE: THIS LISTING IS FOR THE WEE GLENCAIRN GLASS, NOT THE REGULAR/STANDARD GLENCAIRN GLASS.
If you are intending to receive regular-size Glencairn Glasses, please visit our Glencairn Glass product page by clicking here. 
These glasses are smaller than the standard Glencairn Glass. The WEE Glencairn Glass is not compatible with any of our CairnCraft Glassware Accessories.
The WEE Glencairn Glass
But why so small?

The WEE Glencairn Glass is a smaller version of the world's favorite whiskey glass – only ~3.5" tall! The Wee is an excellent addition for the times when you only want a sip of something, but don't want to feel the emptiness of a tiny pour in a normal glass.

About Glencairn Crystal Studio

Glencairn Crystal is the company behind The WEE Glencairn Glass. Based in Scotland, for over four decades, they are a family business built on a commitment to personal service and quality workmanship.

A tasting glass for ants

The Wee Glencairn Glass is often called the Distillers glass, as they are used regularly in the backrooms of distilleries for sampling and blending very small amounts of spirits. They are perfect for tasting parties and events or simply a small glass after a hard days work. 
The WEE Glencairn Frequently Asked Questions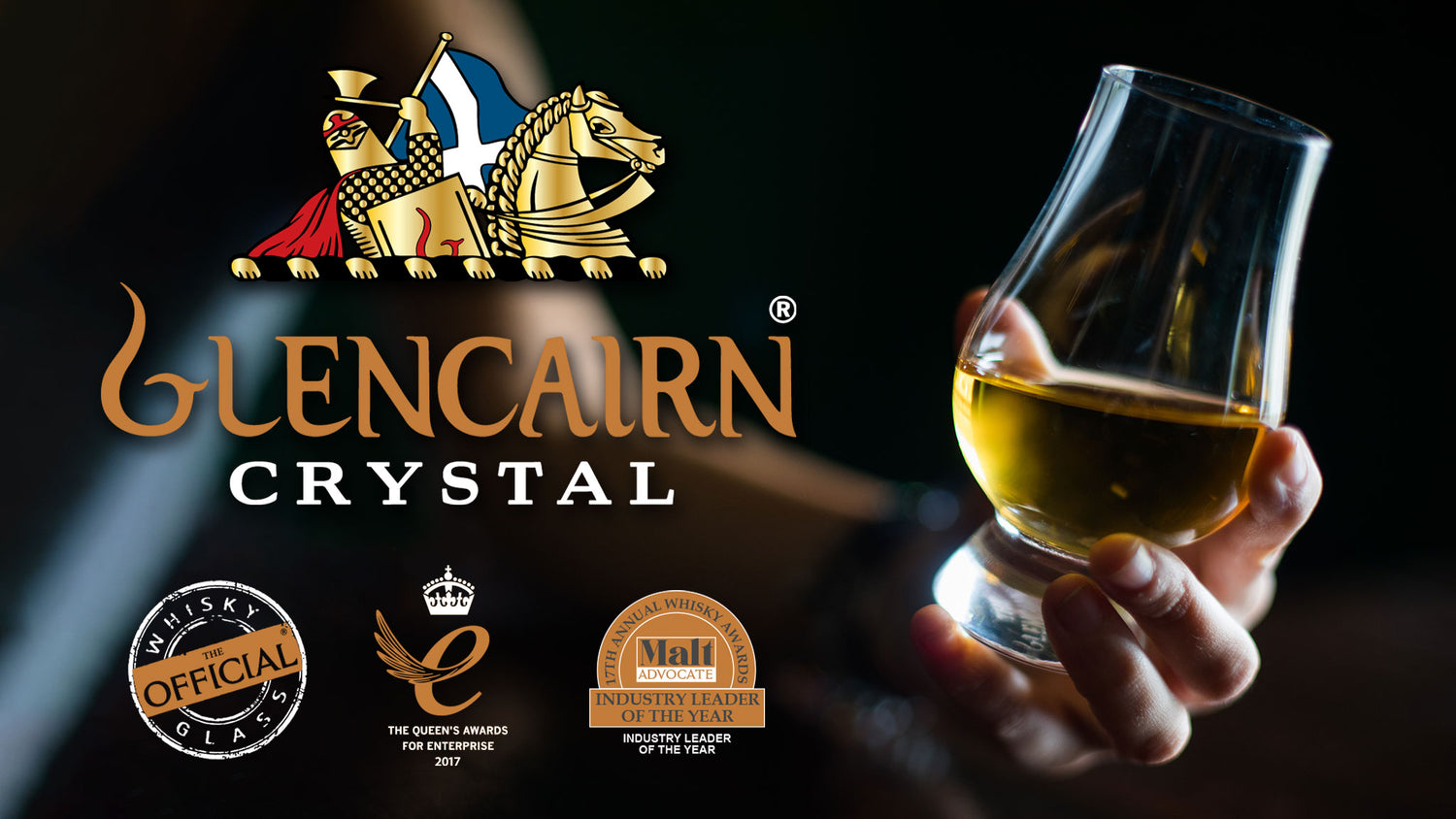 Is the WEE Glencairn compatible with Cairn Craft accessories?

Cairn Craft's line of Glencairn accessories was designed specifically to work with the standard Glencairn glass. Unfortunately, the WEE Glencairn is NOT compatible with our line of Cairn Craft products.
WEE Dimensions & Specifications

SEE PRODUCT IMAGES FOR GRAPHIC REPRESENTATION OF DIMENSIONS.

Surface Diameter of 1.5 oz. Pour – 1.5 in. / 38 mm
Nosing Diameter – 1.25 in. / 31 mm
Max External Bulb Width – 1.825 in. / 48 mm
Max Internal Bulb Width – 1.75 in. / 44.5 mm
Top Rim Outer Diameter – 1.375 in. / 34.5 mm
Top Rim Inner Diameter – 1.25 in. / 31.5 mm
Glass Depth – 3 in. / 75 mm
Stem Diameter – 1 in. / 24 mm
Base Diameter – 1.25 in. / 33 mm
Total Height – 3.325 in. / 85 mm
Weight – 2.5 oz. / 70 g

Where is the WEE Glencairn Glass Manufactured?

Glencairn glassware is manufactured by partners of Glencairn Crystal Studio. In most cases, Glencairn glassware is produced in manufacturing facilities located in the European Union.
Is the WEE Glencairn Glass Lead Free?

Yes, the WEE Glencairn Glass is manufactured from Lead Free Crystal.
How do I know if my Glencairn glassware is authentic and not counterfeited?

By purchasing from an authorized retailer such as Cairn Craft, you can always be sure that your Glencairn glassware is authentic. Every genuine WEE Glencairn Glass has a 'The WEE Glencairn Glass' stamp on its base.

Unfortunately, counterfeit Glencairn products are extremely common on marketplaces such as Amazon and eBay. It is always worthwhile to order your glassware from authorized retailers to be sure you're receiving glasses that are guaranteed to be safe and top quality.
Is Glencairn glassware dishwasher safe?

Yup! Although many prefer to wash their glassware by hand using our CairnCleaner or CairnCloth, Glencairn glassware is perfectly safe in residential and commercial dishwasher.
My Glencairn Glass has bubbles in it, is that normal?

These imperfections are the result of traditional, skilled hand craftsmanship, incomparable to mass automatic production. Each glass is individually crafted and as with all handmade pieces, they will vary slightly from piece to piece. No two can ever be identical and may reveal slight variations. Even by hand, all items are produced within tight tolerances and to the highest standards to provide an exceptional experience in crystal appreciation.

Examples of acceptable imperfections include:

Tiny air bubbles can be trapped during the glass gathering and are revealed during the blowing process
Hand tool marks
Crystal pattern and color irregularities
Slightly asymmetrical form or variation in glass distribution